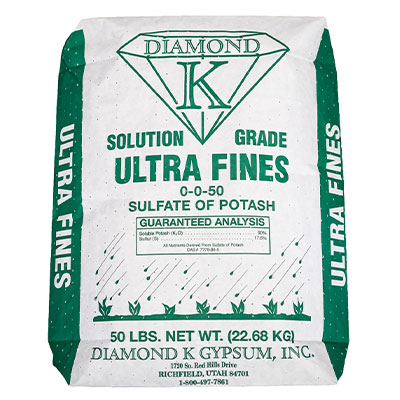 31 Jan

Alternative to Soil Applied Potassium

Tight supply and high potassium prices have everyone scrambling for other options. Diamond K's Ultra Fines Sulfate of Potash is in stock and ready to ship. Ultra Fines is solution grade sulfate of potash that is the lowest cost per unit potassium compared to other soluble potassium sources.

Ultra Fines is more available to the plant. It won't burn plants and it is easy to apply. It can be sprayed on foliar or can be injected into irrigation systems. This highly available potassium sulfate goes into solution quickly with clean water and good agitation. This provides a quick plant response and is one of the best ways to help nuts, vines, and vegetable crops increase their potassium content.

Ultra Fines is available for immediate shipment and works great in conventional or organic production systems.

To learn more, contact your Diamond K Rep today.